Get Into The Holiday Spirits With 8 Mile Vodka!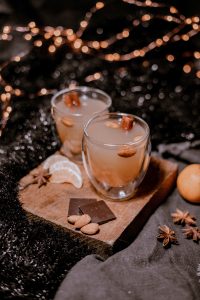 Our co-founders Michael and Anthony Tomey and George and Alex Bourkoulas offer up their favorite holiday cocktail recipes utilizing their carbon filtered creation!
Tis the season! While you may have to do your annual holiday party in a virtual setting this year, it doesn't mean that both sides of the computer screen can't enjoy a nice drink together. Pick up 8 Mile Vodka for your household and ship another one of our awesome bottles to your friends and family so you can each share in a taste of home.
While 8 Mile Vodka is perfect to simply sip on the rocks, the flavor fueled by the finest handpicked Michigan grains also can be used to create some excellent cocktails. Our co-founders Michael and Anthony Tomey and George and Alex Bourkoulas put together a list of their favorite holiday-themed cocktails that utilize their award-winning liquor as the centerpiece of a cup of holiday cheer!
First up is an Orange Cranberry Slush that is a favorite of Anthony
Ingredients:
– 2 cups of 8 MILE VODKA
– 8 cups of lemon-lime soda
– 12 ounces of frozen orange juice concentrate
– 12 ounces of cranberry juice concentrate
– 2 cups sugar
– 9 cups of water
In a large bowl, mix the water and sugar until the mixture is completely dissolved. Next, stir in both juice concentrate and vodka until blended.
Put the mixture in the freezer, allow it to freeze for at least 12 hours. Anthony recommends to do this overnight and make sure that there is space in the bowl for expansion of the mixture.
To serve, place two-thirds of a cup of the slush in each glass. Add one-third cup of the soda to each glass. Enjoy!
Second, all of our co-founder's enjoy this great Pumpkin Pie-Tini
Ingredients:
– Ground cinnamon
– 1/8 tsp. of pumpkin pie spice
– Vanilla wafers, crushed
– Ice cubes
– 2 oz. of vanilla
– 2 oz. of milk, 2% or whole is recommended
– 2 oz. heavy cream
– 1 oz. simple syrup
– 1 oz hazelnut liqueur
– 1 oz. 8 MILE VODKA
A pro tip from George is to moisten the rims of chilled cocktail glasses with water. Crush the vanilla wafers on a plate and dip the rims of the glasses in the dust. Set these aside first before mixing the drink.
Fill a mixing glass halfway to three-fourths with ice. Add all remaining ingredients and stir for at least 60 seconds. Strain into the chilled cocktail glasses.
George also says you can replace the simple syrup and pumpkin pie spice with 1 ounce of pumpkin flavoring syrup.
Next is Michael's personal favorite, a Peanut Butter White Russian Milkshake
Ingredients for four servings:
– 4 tsps. of your favorite brand of peanut butter
– 2 ounces of coffee liqueur. Michael recommends Kahula.
– 2 ounces of milk
– ice cubes
– salt
– 3 ounces of 8 MILE VODKA
We recommend 2 ounce glasses to serve. Combine the peanut butter, coffee liqueur, milk and 8 MILE VODKA into a blender or shaker. Shake or blend the ingredients until the peanut butter is in liquid form.
Next, put a smear of peanut butter on a plate. Sprinkle salt on top of that and dip the rim of each serving glass into the mixture.
Serve each glass with one to two ice cubes. Michael also recommends a shot of espresso for an extra kick!
Up next is a favorite of the wives and girlfriends of our founders, a delicious Christmas Sangria!
This recipe is good for eight servings.
– 2 cups of ginger ale
– 2 cups of cranberries
– Arils of a whole pomegranate
– 1 green apple, cubed
– Fresh rosemary sprigs
– 1 bottle of your favorite brand of pink Moscato
– ice cubes
– 2 cups of 8 MILE VODKA
Take a large pitcher and place the arils, apples and cranberries at the bottom. Next, add all the liquid ingredients and stir together. Allow for the mixture to sit and infuse for at least a half hour before serving. Put ice in each serving glass and pour the mixture in. 
Next, we have the brainchild of Alex, a Chocolate Raspberry Delight!
Ingredients:
– 1 cup of chocolate milk, 2% or almond can work
– ½ ounce of raspberry liqueur
– ¼ cup regular milk or vanilla almond milk
– 1 ounce of 8 MILE VODKA
– baking cocoa
Put the chocolate milk in a saucepan and apply low heat. Add in the vodka and raspberry liqueur and transfer the mixture to a mug.
Meanwhile, pour the regular/vanilla milk into a blender. Blend until the milk is foamed and pour the foam into the mug. Sprinkle the cocoa on top and serve!
Last but certainly least, Anthony and George both remarked that since entering the vodka business, they are often asked by family and friends on the best way to make a Moscow mule. So, here is the 8 MILE approved way to make one!
– 4 cups of ginger beer
– 2/3 cup of lime juice
– 1.5 cups of 8 MILE VODKA
– ice cubes
– lime slices
Combine the vodka, lime juice and ginger beer in a pitcher. Pour over ice in serving glasses and garnish with a lime slice. It's that easy!
So, on both sides of a video call, raise one of these cocktails to the holidays! Or, simply enjoy a glass of 8 Mile on the rocks. Either way, we're confident that our award-winning vodka can help put you and your loved ones in the spirt of the season!